Update! Sign up for the holiday tournament! Here is a link to sign up:
http://goo.gl/forms/i2Zrs8ITKH
A note from BigPoppaDaddy:
"Hey guys. Recently XJS Shared some WOTB Player & overall Clan stats and the numbers were proof positive that Storm is one of the fastest, and strongest clans growing on the NA Server. As we go into the holidays remember to take a step back and think about everything and everyone you are thankful of and for.
We should also remember to be thankful to the Storm Leaders who do so much work to keep this clan going whether it be recruiting, writing WOTB Forum posts, Team Speak, Team Speak funding or maintenance, or setting up PALRINGO, Twitch, YouTube, holding Clan meetings, etc. The amount of work they do to run this Clan that we are unaware of is incredible.If you've felt like you haven't made enough friends, or haven't had enough platoon partners (New or sheer frequency) or just overall engagement from the Clan. PLEASE Speak up so we can help you feel included in our group. Trust me. I've been in another clan. The Grass isn' Greener elsewhere. So let me say how thankful I am for each and everyone of you!
A strong clan that plays together, stays together. Seriously, take a look at how many new clans are popping up everyday. These are not long term clans, they are just people starting new clans for the sake of starting a clan.If you are invited to join another Clan. Take the compliment, say thank you and remember why you joined Storm in the first place! It'll easily help you tell them "Thank you, but No thank you. I like Storm just fine". Also, please tell our clan leaders if somebody actively recruits you. It is against Clan policy to pooch clan members.
Thank you and Happy Thanksgiving!
Sincerely,Bigpoppadaddy"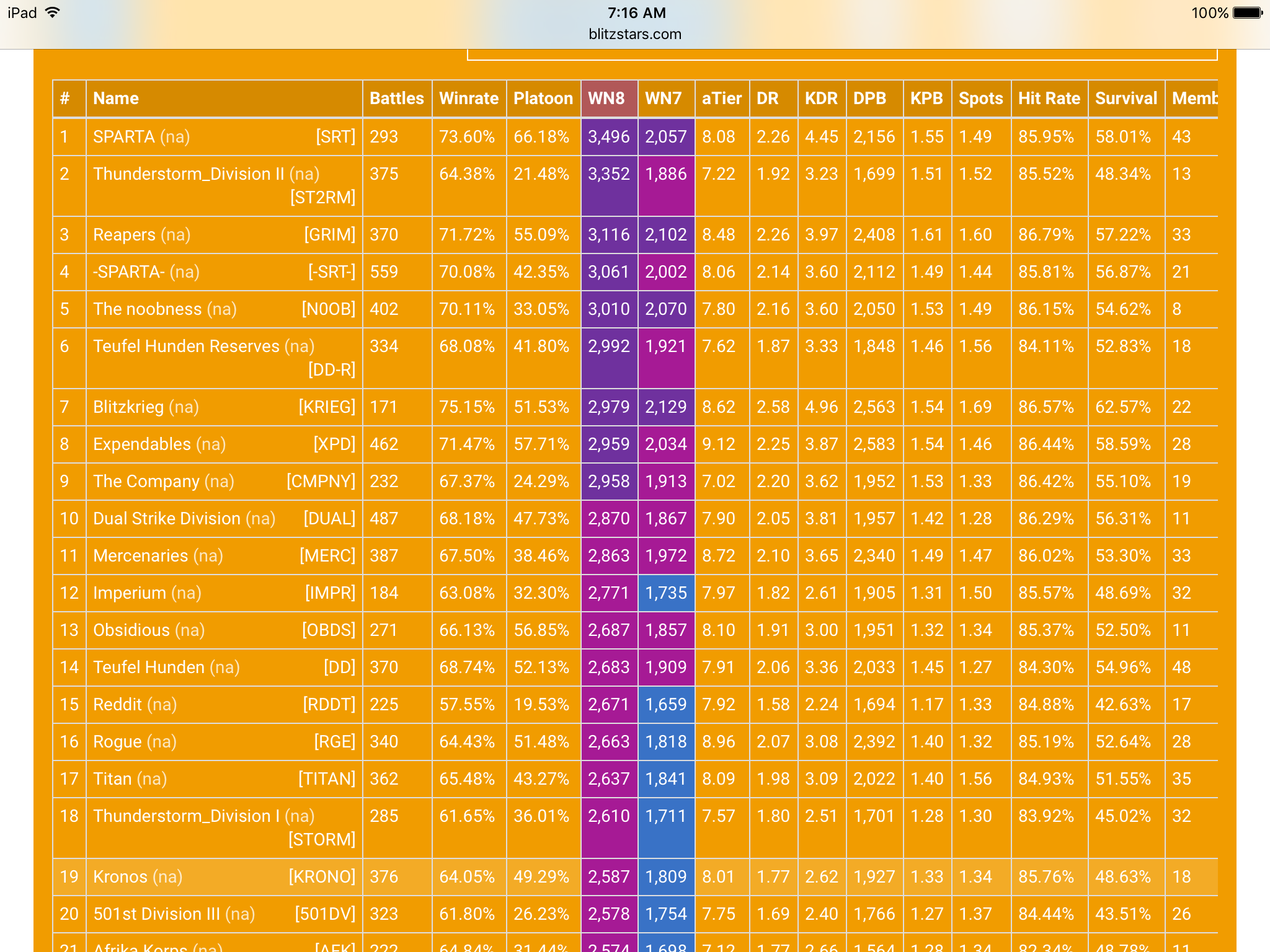 Both sections in top 20 for WN8 over the last 30 days! Keep roll'n Thunderstorm!